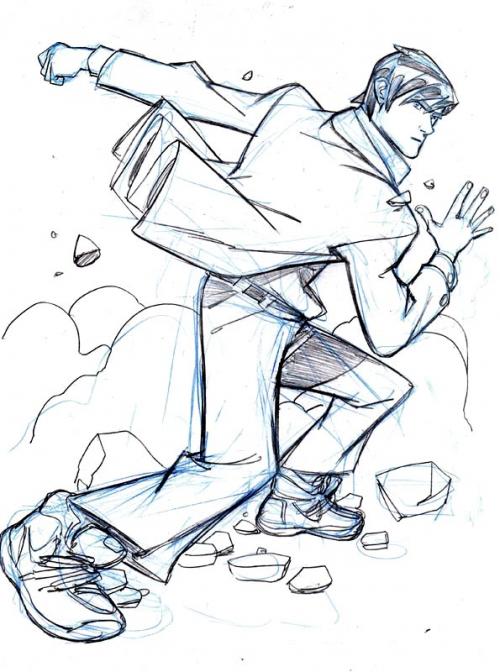 Anyone who's heard of the art/comics/animation blog DRAWN! knows what a great site it is. DRAWN! updates frequently with artists– 2D and 3D, still and animation– that are always interesting. If you've never visited, click the link and bookmark it… you'll be glad you did.
I was scrolling through they're newest posts this morning and saw a video they'd linked from YOUTUBE called SIGG JONES. That's the subject of today's sketch. Now, the sketch isn't of SIGG himself… but rather of what I'm assuming is his manager. The clip is an amazing fight scene between SIGG and this manager character…. it has to be seen to be believed. I don't know if this is from an upcoming movie, or an ad campaign (it does feature some NIKE kicks rather prominently)– but they've got a web page up , even though it's just the main page with no links. So something's afoot. Anyway, I think the animation is wonderfully done and the fight scene choreography is just amazing. So… I thought I'd post the video link here. Beware, though… you'll need a high speed connection to watch it, otherwise you'll be waiting all day for it to load.
[youtube=http://www.youtube.com/watch?v=avyWjn1uV5I]
OK.. that's it for another Wednesday.
This is Entry 366.
Mike