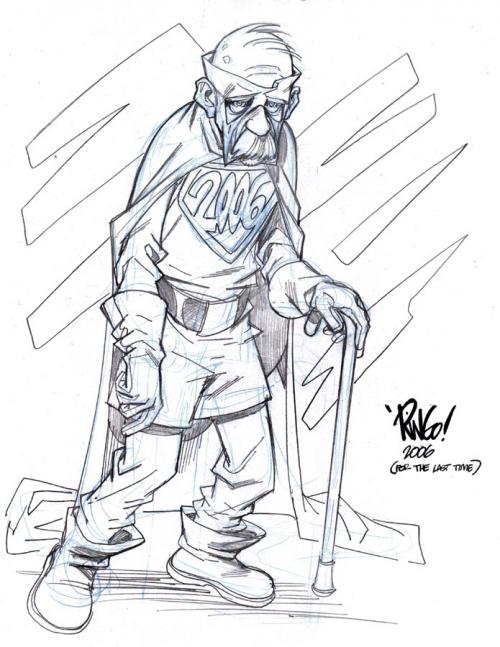 It's hard to believe that another year has come and gone. The old idiom about the older one gets the faster time seems to fly by is absolutely true. As a kid, time seemed to just crawl by– days seemed to stretch on almost indefinitely… and years seemed like eternities. Now that I'm a middle-aged, grey-haired man, time seems to flow by like mercury. Time has especially become rather oppressive for me in that I'm always battling against it to meet deadlines. I find myself looking at the calendar constantly and fretting over how quickly the days seems to slip by as my deadlines loom ever larger. I don't remember feeling that overwhelming sense of dread that hits me on occasion back early in my pro comics career. I was always cognizent of when assignments needed to be finished, but I never stressed out over them as I have over the past several years. I always feel as though time has become my enemy lately– it's an odd feeling.
2006 was an strange year for me. After 3 years of relative security in my assignment working on FANTASTIC FOUR with Mark Waid (I'll just ignore the whole 'firing of Mark Waid' fiasco entirely), this year has been a bit more tumultuous. Some of it is my own doing. While I was more than a bit dissatisfied with the creative aspects of working on the FRIENDLY NEIGHBORHOOD SPIDER-MAN title– I certainly couldn't argue with the sales success of the book launching a major SPIDER-MAN crossover– and the lucrative repercussions of that crossover. I really haven't spoken much about why I left the title in the past year– but some times a creative team really clicks… and some times they don't. I just never felt comfortable with the kinds of stories that I was having to draw with the book– even after the OTHER crossover ended– and so I moved on. The last half of the year was an odd smorgasbord of assignments. I had the opportunity to work on a Stan Lee plot with the STAN LEE MEETS THE SILVER SURFER comic. Beyond the novelty of being able to say I drew something written by "The Man" himself– it was also, without a doubt, the briefest sketch of a plot I'd ever had to work with. It gave me a minute idea of the kind of loose creative process that must have been the norm back in the birth of the Marvel Universe (I've heard stories of entire issues being drawn by Kirby, Ditko, et al after only a quick phone conversation with Stan). That book was followed up by two issues of MS. MARVEL– a character that I've never had the opportunity to work on– and so I can add her to the litany of creations I've had the experience of drawing in the length of my career to this point. It has become quite a lengthy list. And probably the oddest– and least expected–of that list would be THE SPECTACULAR SPIDER-HAM. Not only did I get the chance to draw that anthropomorphic analogy of SPIDER-MAN on one of the dozen cover variants I did during the OTHER crossover event– but I got to draw the cover and a chunk of pages for the ULTIMATE CIVIL WAR SPIDER-HAM CRISIS (FEATURING WOLVER-HAM) #1. It's the kind of thing that if you'd told me I'd one day be working on back when I first got in the business, I'd have thought you were nuts. But that's the thing about this industry– and really, life in general– you never know what's around the next corner.
It'll be interesting to see what 2007 has in store.
I hope you all have a wonderful NEW YEARS celebration. And be safe, most of all.
This is Entry 319.
Mike