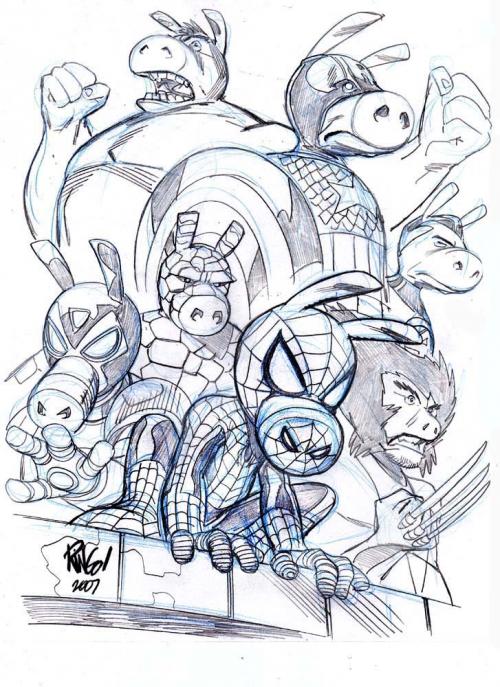 ULTIMATE CIVIL WAR SPIDER-HAM CRISIS #1 (that's a mouthful) hits store shelves today. I have to say that of all the various projects I worked on last year, this one is the one I had the most fun with. I was never a huge SPIDER-HAM fan… but I always thought he was fun character– and he was a lot of fun to draw. There are so many great artists involved with this book– the legendary John Severin, Jim Mahfood, Ariel Olivetti and Skottie Young among them. It's an honor to be in this book with these great folks. I have been privy to seeing a lot of the work done by the other artists ahead of time– and I think folks are going to enjoy this book if they decide to pick it up.
Some one made a comment over on my DEVIANTART gallery that the silhouette of my SPIDER-HAM looked like CEREBUS. It's a great observation. When it came time to sit down and start drawing the cover and pages, I felt like I didn't want to emulate what artists had done before with the character.. I wanted to go in a slightly different direction with him–and Dave Sim's way of drawing his signature character gave me a bit of inspiration. It's a trend that I've notice over the years that fans want to get sketches from an artist of the books they've worked on in their careers. I was never asked to draw commissions of the THING very often before I began working on FANTASTIC FOUR. The same goes for most of the other books I've worked on. And I get the feeling that now that this SPIDER-HAM book is hitting today that in the future, I might be asked quite a few times to draw him. That'll be just fine… he's certainly a blast to draw.
OK… gotta get back to work– if you pick up the book, leave a comment here and let me know what you think.
This is Entry 333.