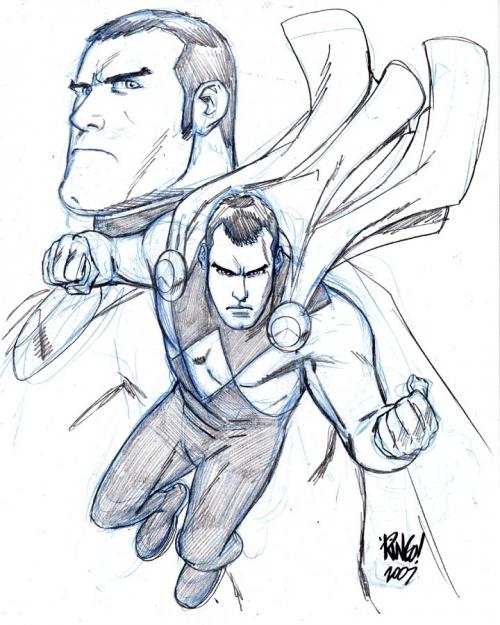 I've been wanting to get my web site redesigned for a while now. After somewhere around 4 years of the original design, I had been thinking it was time for a change. That opportunity came a few months back when my buddy (and SPIDER-MAN/FANTASTIC FOUR writer) Jeff Parker forwarded me an email from Steven Gettis, who was interested in buying three HARRY POTTER sketches and a DON QUIXOTE sketch I'd done. Steven collects sketches of literary figures– writers and their creations… and he's got a wonderful online gallery of these pieces you can find here. I knew that Steven had redesigned Parker's site and did a really terrific job, and so I asked him if he'd be willing to do the same for me in exchange for those sketches.
Fortunately for me, he went for it.
I absolutely LOVE what Steven has done with this site. We decided on a 'blog as main page' format since that's what most folks frequent the site for. For the sketches in each post, you can click on the image and it will open to a larger version of the sketch. If you'll look around a bit, you'll see that there's now an archives section of all the posts I've made from the beginning of my blogging. I've had people asking me about that for a long time now… and it's great to have that feature finally. I've gone through my files and uploaded the sketches from the past couple of years. Some of the older stuff I'm going to have to find and rescan as I can't find them on my hard drive… but I'll get it done relatively soon. Another function people have been asking for is a 'trackback' feature and/or an RSS feed for the blog… and now both are available. There's also a search function that will allow you to search for posts/sketches by subject matter (SPIDER-MAN, for an example). I've got an extensive list of links to sites I frequent and artists whose work I love. In addition, there're links to my DeviantArt gallery, which has more than 160 pieces up for you to see any time you're so inclined, as well as my MYSPACE page and the folks at MOTHCOMIX.COM who sell some of my art. You'll also notice if you refresh the page a few times that the site banner changes randomly. There are three versions now… and I may add or subtract from the group from time to time. The vertical row of image tiles in the middle randomly load as well to add to the fun. That's the thing I love so much about this new design– it's colorful, fun and much more functional and interactive. So Steven– thank you so much for this wonderful design… it far surpasses anything I imagined. You're my hero, buddy….! This really feels like home, and I hope you'll all feel the same way as well.
So take some time, look around… and I'll see you here again on Wednesday.
This is Entry 385.
Mike