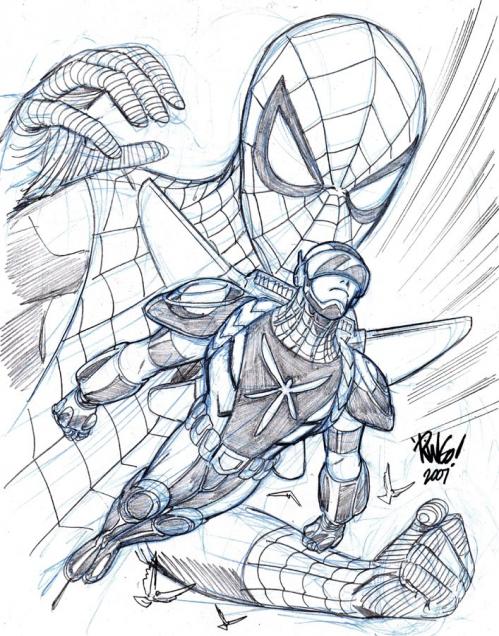 Long before the Brad Meltzer mini series that set the tone for supervillain anal-rape and murder at DC, there was another event entitled IDENTITY CRISIS. Back when I was drawing SENSATIONAL SPIDER-MAN in the mid-to-late 90's, crossovers and SPIDER-MAN line-wide events were the norm… and they still are, so I suppose that for the major flagship characters at the Big Two things never really change. Events and crossovers sell, no matter how much uproar that might be heard from a vocal minority. I was a bit frustrated at that time with all the events being foisted on us that kept us from getting any personal creative momentum on SENSATIONAL…. but there was one thing– or PERSON, I should say– that made it tolerable and even fun: Todd Dezago. Todd and I had become fast friends working on the book together… and we had gotten to the point where we were talking on the phone just about every day about SENSATIONAL and comics in general. Todd was very generous with allowing me to have as much input as I wanted on the book… and so even though the event stuff was a bit of a pain, we always talked it out and found a way to make it fun for ourselves. That's a situation that I've rarely– if ever– found myself in on any of the other major icon crossover events I've been involved in…. and that's the biggest roadblock to having any enjoyment for me with those events. Having a rapport with the writer and being able to have a modicum of input makes all the difference.
I don't recall all the specific details as to why– but SPIDER-MAN had to dump his red-and-blues for a new super-identity.. and he chose to take on four different guises (one for each monthly being published at the time…. natch). Todd and I got THE HORNET. That was it… no other specific parameters, just the name. So we started working out the details of the character and his costume. I had always been a big fan of YELLOWJACKET…. so I used that as a springboard/inspiration for the HORNET design. Since SPIDER-MAN can't fly, we had to come up with a winged jet pack for him, some stinger gauntlets for a weapons system and a helmet that would allow for concealing his identity but allow for maximum visibility in all directions since he would be flying around at high speeds. In the end, I was kind of happy with the design I came up with. He ended up being half spandex, half mech. I don't know what color scheme I had in mind for him at the time (if I even thought about it), but when I saw the purple-ish hue they gave him… at first I hated it. It grew on me quickly, though. In the end, the story was a fun one, and there were so many great scenes that Todd came up with for THE HORNET (as well as the wonderful characters stuff and sub plots we had going at the time) that I ended up enjoying the event quite a bit. Still– I was happy when Peter dropped the HORNET persona and went back to wearing his SPIDER-MAN costume.
It never gets any better than that classic red and blue outfit.
This is Entry 386.
Mike