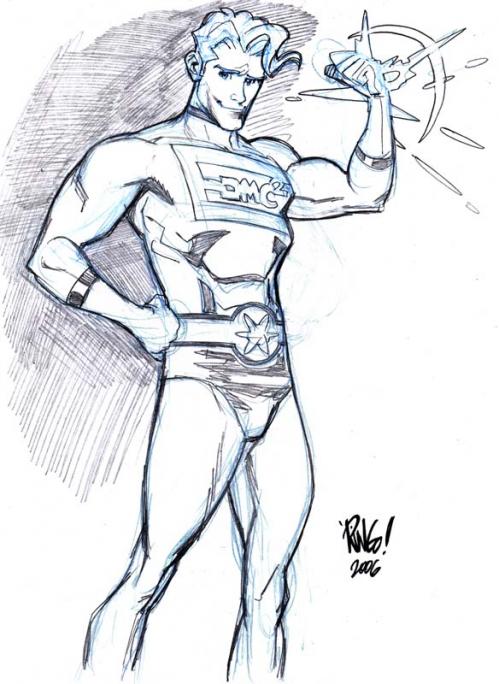 I was pretty much at a loss for a subject for today's sketch and post until I saw Erik Larsen's post about E-MAN by Nick Cuti and Joe Staton over on his ONE FAN'S OPINION column this morning.. I'm not going to quote from or reiterate what Erik has written about there because I want you to all go (if you're so inclined…. no pressure) and read the column for yourselves. It's a wonderful tribute to a couple of great creators and one very special creation.
Often the terms 'under-rated' and 'unsung' will be used for the comic book creators that some folks think don't get enough attention– and those terms are never more true than when I think about the great Joe Staton. Joe's work on E-MAN with Cuti at CHARLTON COMICS back in the 70's was my first exposure to his work– and I was instantly hooked. The open and friendly quality of Joe's art is tempered with a wonderful angular edgy quality that just struck me as totally unique at the time. That angular quality allowed Joe to handle just about any material and look well suited for it. You name it– superheroes, science fiction, horror… he could handle it all, and he did with CHARLTON. Once I notice E-MAN, I started recognizing his work on various things that CHARLTON was publishing– he even did work on their SIX MILLION DOLLAR MAN black and white magazine and was spectacular in it. In subsequent years, Joe did some work for Marvel– and one of my favorite things from him was a stint he did inking Sal Buscema on THE AVENGERS. They were an amazing combination on that book…. it was inspired stuff. He also did a great run on ALL STAR COMICS at DC… I was blown away seeing Joe handle these wonderful Golden Age DC characters. Joe's work was something I was always looking for– I couldn't wait to see what he was going to do next. He's remained busy over the years– and is now working on SCOOBY DOO comics for DC. As Erik points out in his article, though– every once in a while, Joe and Nick Cuti will return to E-MAN…. and comics are always richer for it.
That's it for another week.
This is Entry 286.
Mike