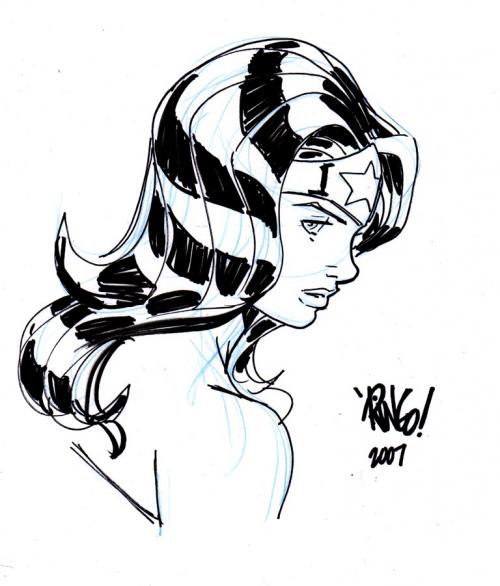 Today's post includes a head sketch that I did when someone bought a couple of 2007 sketchbooks on the first day of HEROES CON– and never picked the sketches up. My 'program' of offering a free head sketch when someone purchases a sketchbook has turned out to work pretty well. There's one little hitch that made things a bit difficult this past show, though. There were several guys who came by and picked up between 2 and 6 sketchbooks and wanted sketches done for ALL of them— one sketch per book purchased. Now, on the face of it, this sounds just fine… but there were people beginning to line up immediately on the first day to get stuff signed and to buy sketchbooks… so I didn't want them to have to wait while I did up to 6 head sketches at once for someone who bought that many books. So I put those aside to do in the room the next morning– which caused me to miss half the day of the show on Saturday (actually, drawing the WONDER WOMAN piece on the poster board for the annual art auction had something to do with that as well). So I think I might need to tweak the 'policy' for the head-sketch-per-sketchbook thing and maybe limit it to two sketches per customer no matter how many book purchased. I guess this will be an ongoing process to get it worked out smoothly.
The reason I'm posting this head sketch today is that one of the guys who bought a couple of sketchbooks and left his sketch requests with the intent of returning the next day to pick them up never came back. So if you ever check out this site, fella– send me an email telling me your name and the subject matter of the second sketch you asked for, and I'll be happy to mail them to you. So… let me know if you're able. You can find my email address in the PERSONAL section in the column to the far right.
OK… have a great weekend, everyone.
This is Entry 391.
Mike