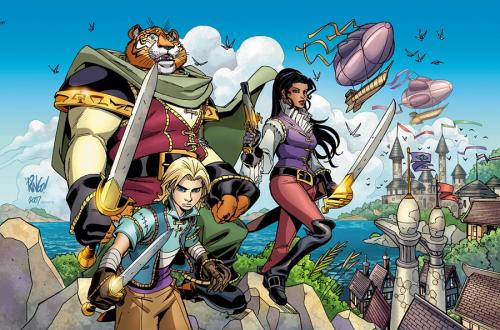 Yesterday IMAGE released their solicitation information on COMICBOOKRESOURCES.COM for books shipping in May– and the TELLOS COLOSSAL HARDCOVER is included in those solicits. The book will be in a similar over-sized format as the regular INVINCIBLE and WALKING DEAD HC editions (not the OMNIBUS editions). The TELLOS HC is slated to be 288 pages of material with all 10 of the original series issues as well as the two 10-page stories from the PROLOGUE and PRELUDE specials and the 5-page story that appeared in the back of SECTION ZERO #1 from the old GORILLA COMICS line. The remaining pages will be made up of sketch material that I've accumulated over the years– both from before and during the original series publication as well as after. I never could stop sketching those characters, even after I moved back to freelancing– as those of you who are regular visitors here will know.
The artwork accompanying the solicits on CBR is kind of small, so I thought I'd give you a bigger view of the cover piece here. Paul tells me that these are just preliminary colors and that he'll be doing some tweaking in places.
Be sure to ask your retailer to order you a copy!
Have a great weekend, all.
This is Entry 340.
Mike