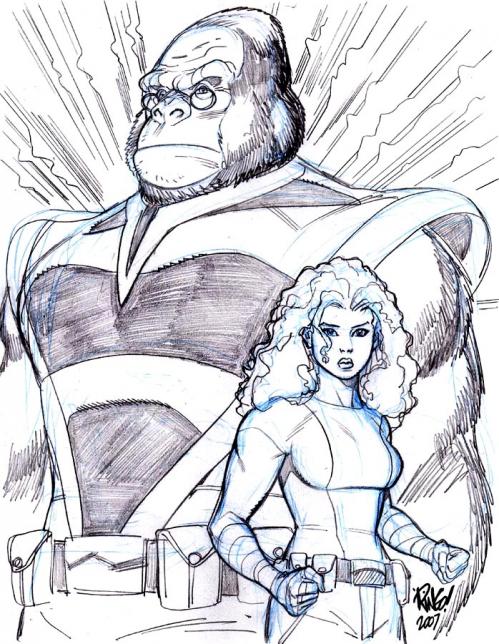 I am a HUGE Art Adams fan. I have been from the very first thing I saw from him. I remember seeing the cover to that first issue of LONGSHOT, which was Art's first big project. It was like a shock of ice cold water hitting me… his work just stood out immediately from everything else on the rack. It was love at first sight. The most amazing thing about Art's work is that LONGSHOT was just the beginning… his work just skyrocketed and grew from there until he has become one of the most distinctive and recognizable visual voices in the comics medium. I will buy anything that Art works on… whether I'm into the story or not. I just can't get enough of his artwork.
My FAVORITE Art Adams subject matter is his creator-owned comic MONKEYMAN AND O'BRIEN. It's obvious that Art is a big Kirby fan, because MaO is filled with the kind of concepts and designs that would have made Kirby proud. The book is packed with so much fun and adventure–and the story and dialogue is as strong and interesting as the visuals. It turns out that not only is Art Adams a brilliant artist, but he's a great writer as well. MONKEYMAN AND O'BRIEN is the kind of book that I could give to anyone as an example of the pinnacle of what adventure comics can be. It's the kind of title that has wide appeal for every age group. It felt to me that like Mike Mignola's HELLBOY, Art's book was filled with everything that was close to his heart in the comics medium. It's a thrill to read something that's so obviously from that special corner of a creator's imagination– that concept that's just infused with everything they love. That's why I've been so disappointed for such a long time that Art did so little with the book. Beyond his first miniseries with the now defunct LEGENDS imprint at DARK HORSE COMICS, a few short stories and a crossover mini with the GEN 13 characters, there's been nothing else. I've always wondered why he never continued with MONKEYMAN AND O'BRIEN, because I'm sure it must have done well, sales-wise. I've seen Art at a couple of shows over the years, but I've never wanted to ask him, because I'm sure he gets asked about the book all the time, and he might be tired of answering.
But I sure miss it. It's a gem.
OK… have a great weekend, all.
This is Entry 337.
Mike