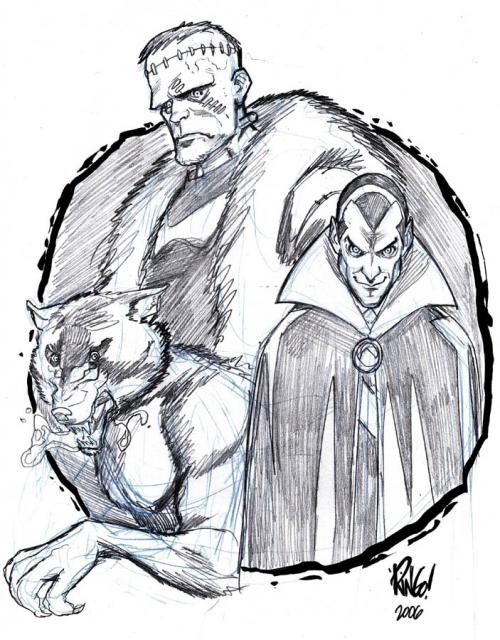 I haven't done anything for Halloween myself in many years… but I know that there are many folks that still do– children and adults alike. So in honor of these folks who put on the colorful costumes and prowl the neighborhoods in search of candy and fun, I thought I'd do a monster-theme for today's sketch. I chose the 'Big 3' of Frankenstein's Monster, the Wolfman and Dracula for the drawing. I know that there are folks who'll ask 'Where's The Mummy…. and where's the Creature from the Black Lagoon…?' Believe me, if I'd had the time, I would have added them as well, but I had to keep it brief. If you feel like naming your favorite monster/scary creature or movie or book in the comments section, please feel free. I'd love to see what makes your blood run cold.
Since the 31st falls on Tuesday, I assume that most kids and adults who love Halloween will be doing their thing tomorrow night. As I said, I don't do the costume thing anymore… but for me, Saturday will mark another day– the end of Daylight Savings Time. I always dread that day. It means that it gets dark around 6 PM instead of a bit later. I drive into the gym at about 5:30 PM every weekday, and it's rather depressing to see the sun beginning to set just as I'm leaving the house– and it's pitch black by the time I leave. I'm one of those folks who gets the 'blues' during the winter months and can't wait for warmer– and lengthier daylit– seasons to arrive. Ah, well– only a few months until spring…..
Have a great weekend.
This is Entry 295.
Mike