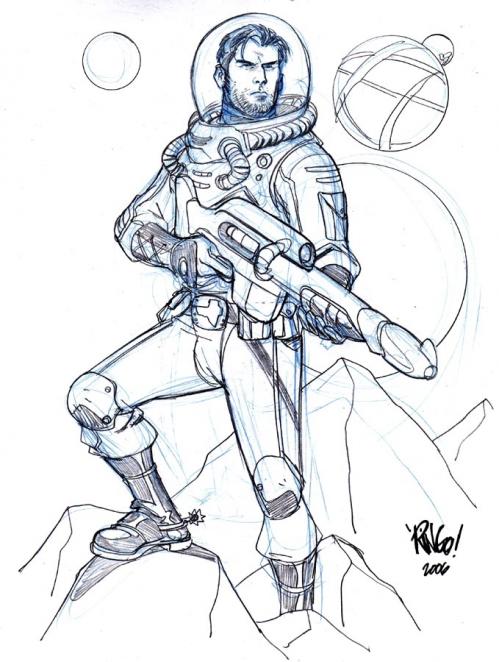 Anybody reading FEAR AGENT…? This is another book that, although it's doing pretty well compared to some of the other independent titles out there, is still deserving of more attention and sales. Rick Remender, Tony Moore and Jerome Opena are creating a wonderful, pulp-style science fiction comic in the EC tradition— but with much more of an edge (and some rather adult situations). Rick is trying to expose the comics business to a wider variety of subject matters and genres with his personal work– books like STRANGE GIRL, NIGHT MARY and SEA OF RED are riding a crest of new creators and creations who are really trying to get beyond the cape-and-long-underwear subject matter, but still keep a sense of adventure and action involved in their work. Guys like Rick, my buddy Jeff Parker (with INTERMAN) and Robert Kirkman (with WALKING DEAD) are a new generation of writers and writer/artists who's tastes extend beyond (but don't exclude) the superhero genre– and it's no wonder that their intelligent writing is getting noticed… and used… by those very superhero companies like Marvel and DC.
The latest issue of FEAR AGENT– issue 8– is a particularly enjoyable issue, with some insight into Heath's (the main character) past and how he came to be who he is in the situation he's in. The artwork by Jerome Opena is just wonderful… and there's a backup story by Hilary Barta and Paul Renaud… it's beautiful and fun. It's been revealed recently that FEAR AGENT will be moving from IMAGE COMICS to DARK HORSE. I'm hoping very much that this move won't impact the sales of the book…. my personal perception is that DH doesn't promote many books very effectively beyond their big franchises of STAR WARS, CONAN, HELLBOY and maybe THE GOON. I hope that they'll put a lot of promotional muscle behind FEAR AGENT…. I'd hate to see this book get lost in the DH shuffle.
So go out and buy the trade that collects the first 4 issues that IMAGE released recently. See how cool this book is for yourselves!
This is Entry 294.
Mike