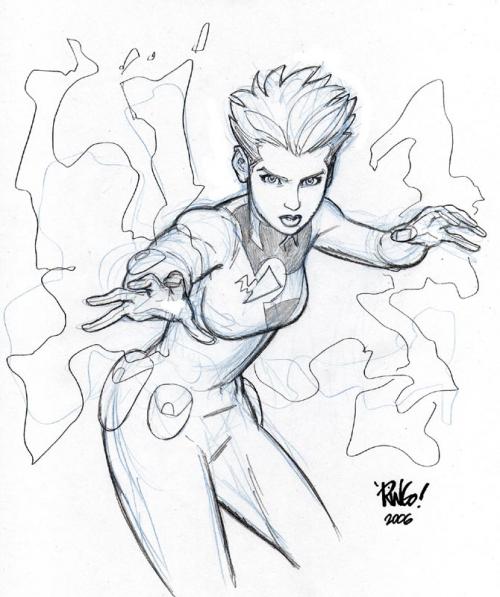 I was playing around with another design for a character that would tie into the sketch/concept from my last post– but she ended up being a little too much like LIGHTNING LASS from the LEGION OF SUPERHEROES. That's what I get for just sketching without thinking. I didn't even have a definitive character or concept in mind for her when I began drawing, other than the vague idea that she might tie into the team I've been thinking about. And so, I suppose my subconscious brought in more LEGION than I was intending. Serves me right for not having a plan. I like the drawing, regardless, so I thought I'd post it anyway. Maybe I'll color it and submit it AS a redesign for LIGHTNING LASS to PROJECT ROOFTOP. PR was created by Dean Trippe and Chris Arrant. After the wildfire that was the BATGIRL meme from a couple of months back, they had the great idea to create a site where various artists could submit redesigns of established comic book characters. I think it's a terrific idea, and Dean and Chris have both invited me to participate. I've been wanting to since they first contacted me about it– but time's been very tight.
This sketch might be the spark (spark….. get it….? LIGHTNING LASS…? Spark….?) that helps me get something done for their site.
I hope you all have a great weekend.
This is Entry 207.
Mike