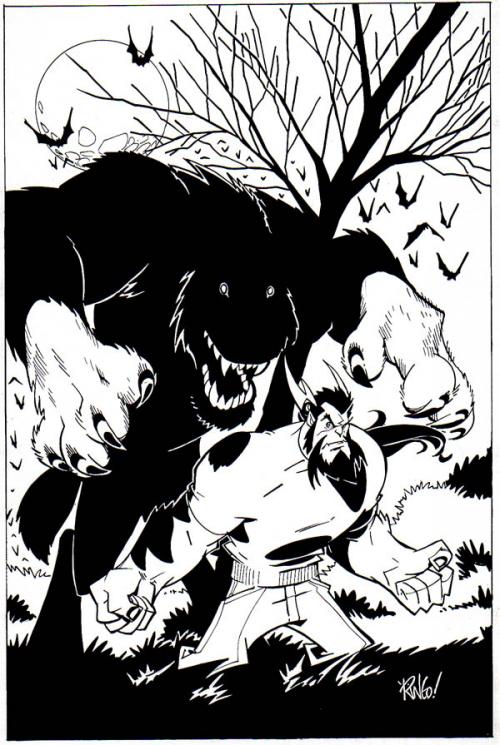 Many years back, Mike Manley put out an open call to interested pros for pinups for his self-published comic MONSTERMAN. I can't really remember how I heard about it. Perhaps it was posted on his web site. I used to frequent Mike's ACTION PLANET site to read his wonderful GIRL PATROL web comic. Mike draws some incredibly sexy women, and the strip is a ton of fun. However I found out about the call for pinups, I worked up the posted piece here today and sent it off to Mike after some email correspondence. I don't know if Mike ever published it– his MONSTERMAN comic was launched during the beginning of the huge downturn in the comics industry. Retailers at that time were afraid to order anything that they didn't think would be a guaranteed sale. With untold boxes of unsold over-ordered comics in their storage rooms, anything NOT from Marvel and DC (for the most part.. there were of course some exceptions like BONE, etc…) were doomed to die on the vine. And that's a shame, because MONSTERMAN was great fun… and Mike's cartooning on the book was brilliant. He also took format chances and printed an oversized edition that featured a MONSTERMAN mask on the back cover that was a real hoot. If you happen to run across a copy of MONSTERMAN in your back issue hunt at any store or show, do yourself a favor and buy it. You'll be glad you did.
Since then, Mike and I have become pretty good friends. I'll have to remember to ask him some time whether he ever published the pinup or not……
There's a wonderful retrospective on the life and work of artist Mike Parobeck by Greg Khoury over on NEWSARAMA. Parobeck was a favorite of my brother Matt's– and I was very fond of his work as well. He died much too young– and certainly deserves to be remembered. Kudo's to Khoury for writing such a wonderful piece.
This is Entry 193.
Mike