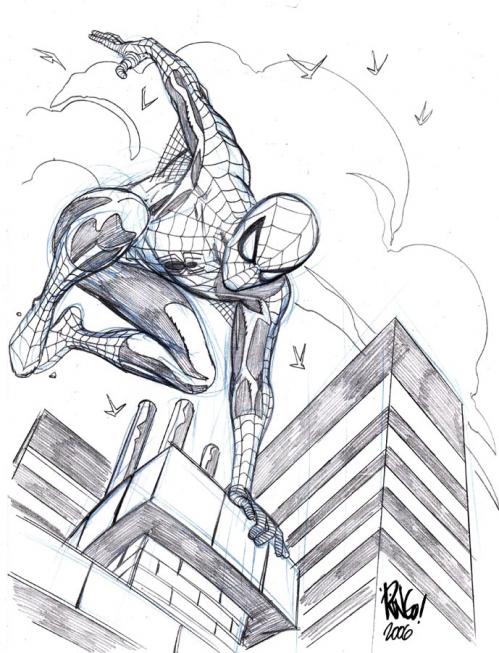 I couldn't think of anything topical to draw today, so I thought I'd just warm up with a good ol' fallback with SPIDER-MAN jumping off a rooftop that, now that I look at it, is very, very similar to the cover I did for FRIENDLY NEIGHBORHOOD SPIDER-MAN #1. Well, when it doubt, repeat yourself.

Well, yesterday's experience was a lot of fun… very TIRING… but very fun. We arrived in Charlotte a little later than we should have, I think…. because I had no idea how huge the tailgating atmosphere was in the city before a game. We had to park about 5-6 blocks from the stadium because every lot nearby was absolutely filled with folks grilling, drinking, and partying. As it turns out, many of these folks don't even go into the stadium…. they're just there for the festive football tailgating experience. And there were some very experienced, professional tailgaters there, believe me. I saw some very impressive setups on the walk to and back from the game. For our part, we had one little old grill that we sat on the ground– and we sat on coolers and the back of my KIA's hatch (although I did a nice fold-out chair with me that I relaxed in on and off). It's a very friendly climate, with people sharing food and drink back and forth… and it was all very cool. I was the designated driver, so I stayed away from the alcohol except for a beer during the game– but it was one of those little beers in the plastic bottle that sports stadiums are selling these days.
As for the game itself– there were as many Steelers fans there as there were Panthers fans… and I THOUGHT that the Panthers would play up to the playoff atmosphere that was permeating the area since if they lost this game, any chance of them making it to the post-season would be gone. Unfortunately, the Panthers played in a very sluggish manner– almost like they didn't care. Maybe without the injured Jake Delhomme in to play quarterback they just gave up. I dunno. But they certainly didn't play with any urgency, so they were soundly trounce by the Steelers 37-3. Oh, well… it was still great to watch my first pro football game, even if it wasn't much of a competitive affair.
So– I loved the experience… but I was very happy to get back home last night. I got up at 5:30 AM to get the day started… and I got back home right before 10 PM. I went to bed as soon as I got in.. I was numb. I was really feeling my middle-age by the end of the day yesterday.
OK.. that's it for today.
This is Entry 316.