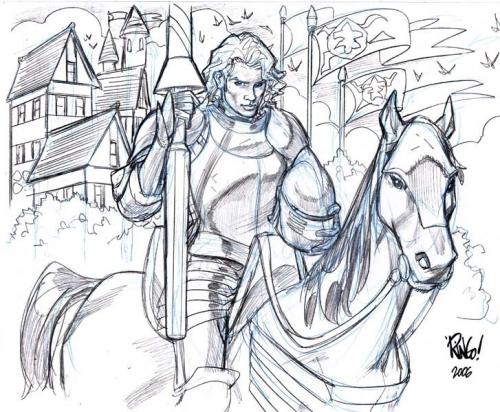 I spent all weekend at the drawing board. When I have to work for such long periods, I like to have something on the TV in the background to kind of 'keep me company' while I'm working. Usually, I'll have some sort of game on– baseball or football or basketball… whatever happens to be in season. Sometimes I'll have a movie on I've seen so many times I almost know it by heart if one happens to be playing. Saturday, I came across the movie A KNIGHT'S TALE playing on TBS. I absolutely love that movie. Here's the description of the movie from IMDB.com:
"Inspired by "The Canterbury Tales," this is the story of William, a young squire with a gift for jousting. After his master dies suddenly, the squire hits the road with his cohorts Roland and Wat. On the journey, they stumble across an unknown writer, Chaucer. William, lacking a proper pedigree, convinces Chaucer to forge genealogy documents that will pass him off as a knight. With his newly-minted history in hand, the young man sets out to prove himself a worthy knight at the country's jousting competition, and finds romance along the way."
That sounds a bit dry — but A KNIGHT'S TALE is anything but. It's full of humor and passion and it has a bizarre and yet wonderful mix of 14th century trappings and surroundings that get effectively interwoven with modern music and references. The cast is just wonderful, with Heath Ledger as the headliner. There's no huge marqee name attached, but I think that makes the film better for that. TALE is the kind of movie that I just can't change the channel from when I see it on cable. It just hits on everything that I enjoy in a movie– great acting, a wonderful script, a historical setting– and a villain (played by Rufus Sewell) that I just love to hate. I've seen it available on DVD– but it's never been released (as far as I know) on a Special Edition version with all the 'making of' extras. I'm not much for those behind the scenes kind of extras usually, but I'd love to see them for this film.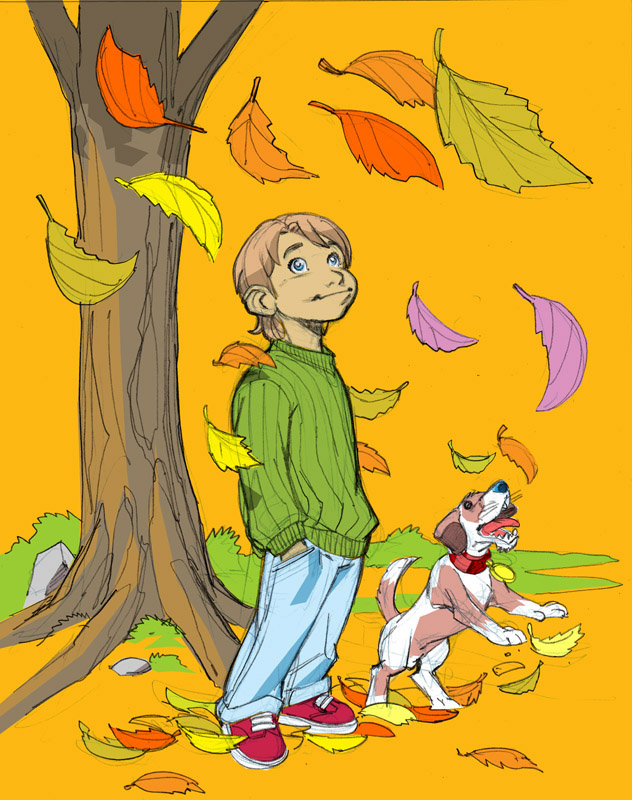 In honor of this past Saturday being the first day of Fall, I thought I'd post this piece I did a while back for the blog. It's funny that here in North Carolina, the first two days of Fall were pretty hot. We had temperatures in the upper 80's on both Saturday and Sunday. It's cooled off for today– but over the weekend, I had to turn on my air conditioning because of the heat.
OK– that's it for today.
This is Entry 281.
Mike