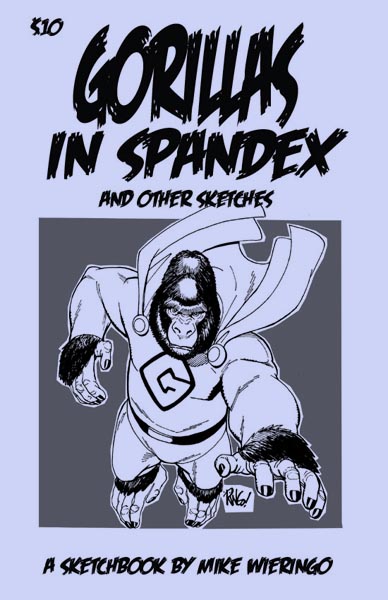 Tom has often asked in the comments section if I'm ever going to be offering a sketchbook for sale– and in yet another little tidbit of HEROES CON news/self-hype…. I present the cover to my very first CONVENTION SKETCHBOOK. Entitled (as if you couldn't see for yourself) GORILLAS IN SPANDEX AND OTHER SKETCHES, this is my first foray into what has become very much a con mainstay of artists offering printed parts of themselves for sale. The book will have a cardstock cover and 24 interior pages with the dimensions of 5.5 x 8.5 inches (the standard for these things).
So…. if you're going to be in Charlotte for HEROES and your interested, I'll have them for sale.
That's it for this week.
This is Entry 244.
Mike