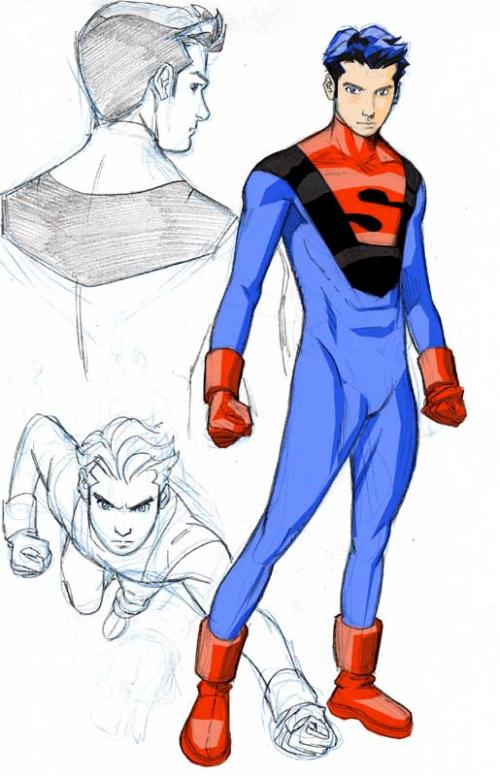 Is it possible that a SUPERBOY meme could be starting just like the recent BATGIRL drawing wave we saw hit the web recently…? I don't know– but Dean Trippe posted a great reinterpretation of SUPERBOY over on the DRAWINGBOARD.ORG forums. And if you scroll to the bottom of page two, Dean links to several other folks who have gotten in on the action. Doing new variations and interpretations of classic characters is a lot of fun.
I thought I'd join in and come up with a design for SUPERBOY myself. In the end, I'm not too happy with the costume…. but I do like the poses.
It's been a fun week here… it's been great to see everyone commenting on the previous two posts. Because of the BATGIRL wave and the 'Save SPIDER-GIRL 'post that got noticed by– I suppose– some SPIDER-GIRL fans who normally don't frequent this blog, the individual visits have really increased this week. I hope those of you who are new to my little corner of the web will continue to check it out as often as possible..! Also– for anyone intersted in forums– the link to my forum hosted over on COMIC BOOK RESOURCES is working again… so head on over if you're so inclined. I"ve been getting a bit more active over there. Everyone have a great weekend and I'll see you next week!
This is entry 187.
Mike