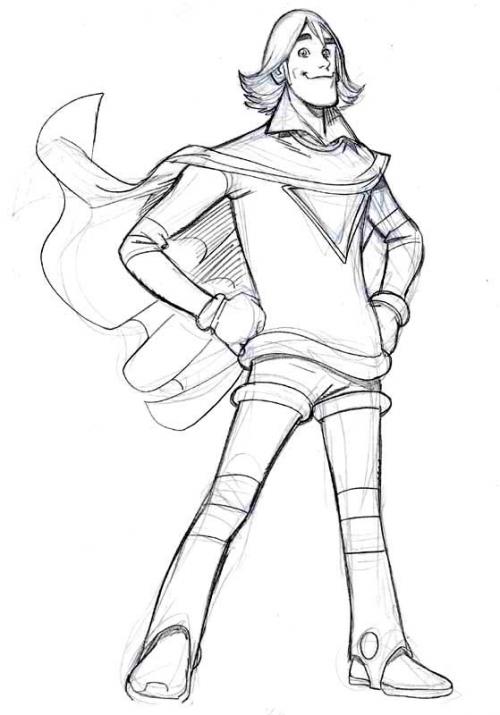 In March, the first issue of TRUTH, JUSTIN AND THE AMERICAN WAY will debut from IMAGE. It's co-written by Scott Kurtz of PVP fame, Aaron Williams of NODWICK and PS 238 (and many OTHER things) fame and illustrated by Giuseppe Ferrario. Scott has honored me by giving me access to the JUSTIN pages as Giuseppe has been finishing them, and I've got to say that they are simply brilliant. As you'll see if you follow the link to Giuseppe's web site, his work is fun and animated– and he packs a stunning amount of detail into his backgrounds. And not only is he a demon with the pencil and the pen, but his color sense is fantastic as well. From an artist's-eye point of view, I am so blown away by this guy's talent. And the pairing of Giuseppe with Scott's and Aaron's writing is a perfect union. The script is truly funny. JUSTIN is a love ode to those TV shows of the 80's that sparked the imaginations of children everywhere…. shows like THE SIX MILLION DOLLAR MAN, KNIGHT RIDER, THE HULK, THE MASTER and yes, THE GREATEST AMERICAN HERO. These shows were pure fantasy… and though we can look back at them now and see just how limited the budgets were and how limited the technology the creators of these shows had with which to weave their magic, they still bring back those nostalgic feelings that welled up in our chilhood hearts in those days when we think about them. Those shows helped inspire countless kids… and lots of those kids work in the comics industry today (like Scott and Aaron….!).
This book has simply got to be seen and read to be believed. It's a humor book… and humor books have a hard time finding a place in this industry that is so married to it's superheroes being dark, grim and completely serious– but you're not going to find any of those types of books that have nearly the heart that TRUTH, JUSTIN AND THE AMERICAN WAY has. These guys truly love their subject matter– and it shows on every single page. Do them– and more importantly yourself– a favor and buy this book. You will love it as much as I do. If follow the link to Scott's PVP ONLINE site, there's a banner ad that will allow you to pre-order all 5 issues from MAYHEM COMICS, and you can have them delivered right to your door each and every month of the mini-series. It doesn't get any better– or easier– than that.
HERE'S TO JUSTIN…!!!
This is entry 184.
Mike