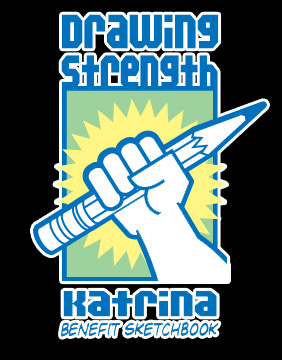 John Gallagher is a very good guy. For the past two years, he's spearheaded an anthology/sketchbook project called MORE FUND COMICS to benefit the COMIC BOOK LEGAL DEFENSE FUND that has been sold at the last two BALTIMORE COMICONS. He's done a wonderful job motivating folks to contribute to the cause and thanks to his hard work, he's raised a lot of money for the CBLDF. THIS year, with the horrible disaster that has befallen the folks of the U.S. Gulf coast, he's putting together a benefit sketchbook called DRAWING STRENGTH. There's a news item about it over at NEWSARAMA — but I wanted to post it here for you as well:
NEWS RELEASE: Baltimore Comic-Con Exhibitors "Drawing Strength" For Katrina Survivors
Creators Come Together for Star-Studded Benefit Sketchbook Launch in Baltimore
Hurricane Katrina caused unimaginable devastation, destruction and human suffering, and just as with any disaster, unprecedented destruction and suffering calls for an outpouring of generous response. Doing their part to help, many of the talented comics creators appearing at the Baltimore Comic-Con (September 16-17, Baltimore Convention Center) have come together to put together a benefit sketchbook, to be offered for sale in an exclusive limited print run at the show. All proceeds from the book will go to Habitat for Humanity's "Operation Home Delivery," creating low-income housing for Katrina's survivors.
"Baltimore Comic-Con is the first major US comics convention since the Katrina tragedy," said contributor/publisher John Gallagher, "so we, as creators, are really trying to come together to raise funds, awareness, and a feeling of unity in the comics community." The sketchbook idea came from a conversation between Gallagher and his Roboy Red co-creator Rich Faber, as they both expressed a desire to help the Katrina victims. Within minutes, they had the idea, and a name, "Drawing Strength." With the help of Baltimore Comic-Con organizer Marc Nathan, Gallagher and Faber contacted almost all the show's guests over the weekend, and the response has been overwhelming, with Brandon Peterson, Greg Horn, Mark McKenna, Jim Calafiore, Mike Manley, Neil Vokes, Marc Hempel, Mark Wheatley, Faber, Gallagher, & The Luna Bros already on board, offering sketches and pin-ups for the project.
Just added! Frank Cho, Walter Simonson, Howard Chaykin, Joe Linsner, Mike manley, Howard Porter, Ron Garney– and featuring a moving color cover by Mike Wieringo!
More info will be forthcoming as Baltimore Comic-Con exhibitors contributors continue to join the "Drawing Strength" cause, and, for those unable to attend the Baltimore Show, the sketchbook will be made available for sale online at Gallagher's Sky-Dog Press website. (www.skydogcomics.com/drawingstrength)
And also, I'd like to show you the cover image I did for the sketchbook:
<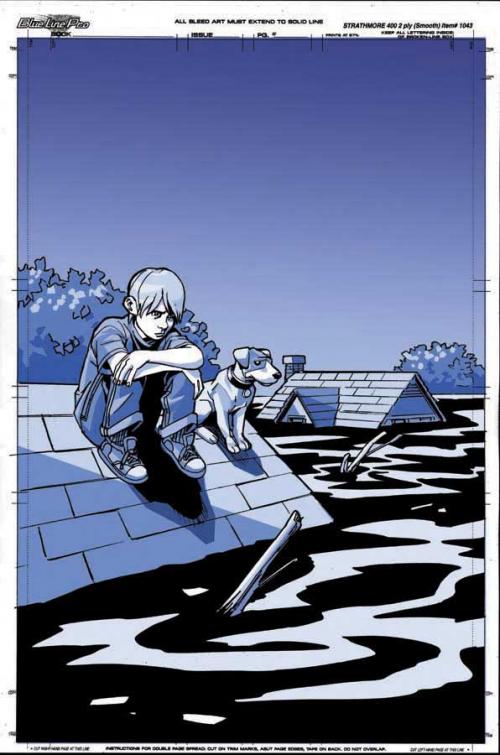 So if you can make it to Baltimore, please be sure to stop by and purchase one of these sketchbooks and help out. If you can't make it to the show, then as it says in the press release, you'll be able to buy one at John's web site.
This is Entry 144.
Mike