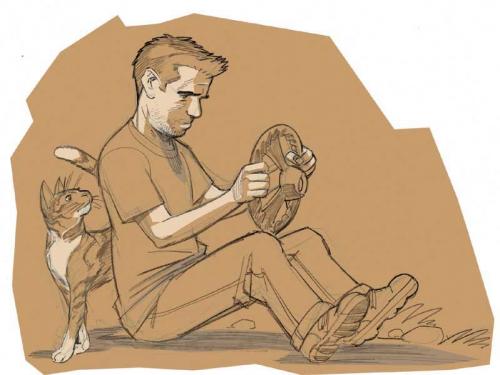 It might be time to buy a new car. I have a 1996 Isuzu Rodeo, and it's been a wonderful vehicle for me. No problems at all. But the last week or so have been a little frustrating. Week before this past, the battery died on me. Fortunately, I had just returned from running some errands, and had pulled over to check the mail at my box on the road in front of my house. When I started to drive up to pull into my driveway, my car stalled, and wouldn't start again. The big problem is that since I live alone, and don't really have any friends or family around, I had no one to drive me anywhere to get a new battery. And I didn't really know that the battery was the problem at the time anyway– it could have been something more serious. So I had the car towed to the garage I usually take it to for regular maintenance. They called the next day to tell me that it was a simple battery change needed, and so I took a cab into town and retrieved the car.
This past Friday, while also out running errands, I noticed that the engine started making weird noises. I stopped into my regular garage, which fortunately was very nearby and asked them to check it out. They couldn't find anything wrong. So I took off again, and the noises got worse. I quickly returned, but again– they couldn't see a problem. So I took off for home again, and although there was some noise, I just kept going. By the time I got home, there was steam coming from the vents in the hood right at the bottom of the windshield. I opened the hood of the car, and the liquid in the radiator coolant overflow container (made of heavy translucent plastic) was boiling like mad. So the car was overheating. AND SO– I had to have it towed back to the garage, and they were finally able to make an initial diagnosis. The temperature gauge sensor had been disconnected somehow, so it wasn't reading the engine temp. — and the fan that cools the radiator when the car's not in motion had burnt out. Problem is, they couldn't get a new one until TODAY. Fortunately, my parents were already coming to visit on Saturday, so we spent the weekend together, and I was able to get around with them until yesterday. They had to leave and get back home, so they left at about 2 p.m.– but I still have no car. I'm hoping to get a call from the garage that they've fixed everything– but there's still the chance that there may be more problems yet. So until I find out, I just have to stay here at home with no way to get around. I've always thought that there's no more frustrating problems than computer and car problems…… and I've had both recently.
So if I can get my ride back on the road, I might start looking for a new one……. just to be safe. I'm tired of sitting at home.
This is entry 135.
Mike