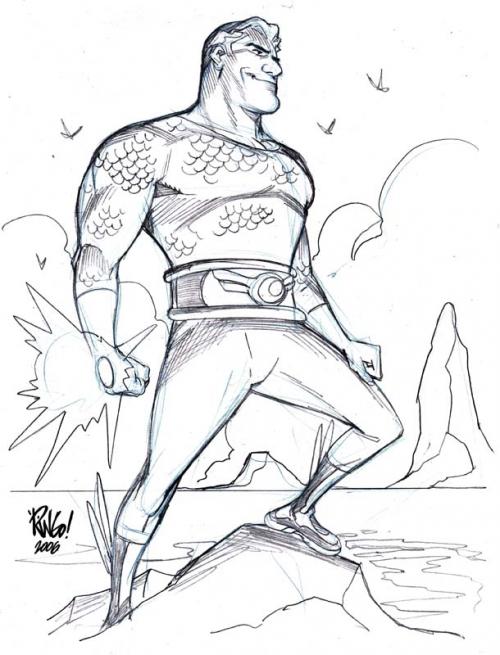 One of my favorite titles these days is ROCKETO from IMAGE COMICS. The book follows the adventures of ROCKETO GARRISON, who is the latest in a family of Mappers, who venture across the New World, charting the unexplored territories that were created in the wake of a cataclysmic event some 2000 years earlier known as the Great Shattering of planet Earth. ROCKETO is an amazing book– it combines so many things that I love the most about comics and imaginative storytelling. It's very pulp inspired– and it combines science fiction and fantasy with huge action and thrills. It's got anthropomorphic characters (and anyone who knows me, knows how much I love THAT) mixed in with a great array of colorful players. But to me, the books biggest asset, and the thing that really makes it unique, is its creator Frank Espinosa. Frank comes from the animation business (and so many great comics seem to be done these days by people with an animation background)– and his work is unlike anything I've seen in comics. It's hard for me to describe…. it's got a looseness and energy that just vibrates off the page– and Frank's use of color just enhances that look. ROCKETO is published in a landscape format– and while I usually don't like that format (I don't know why… it just doesn't feel natural for comics to me– but what do I know…?), I couldn't see this book published in any other way. It just fits perfectly for the look of Franks work and this title. This book has so much to love– the characters, the scope and breadth of the world and adventures— as well as Frank Espinosa's art and storytelling ability…. it's really one you should check out. It certainly deserves to be wider read than it is. It's just amazing.
I'll leave you with another head sketch I did at BALTIMORE COMICON– which is actually two-in-one in this case– that I snagged off of COMICARTFANS.COM.
That's it for today.
This is Entry 278.
Mike