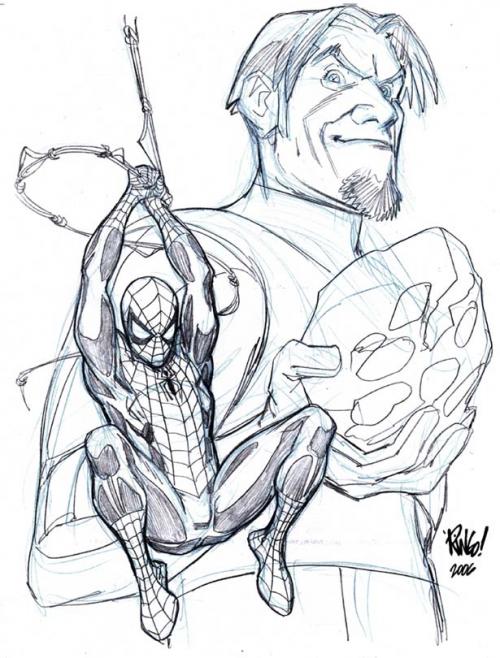 I'm going to keep it brief, word-wise today– but I've got a lot of stuff to show you. Today's sketch is a fond look at the way Todd and I used one of my all-time favorite SPIDER-MAN villains– THE LOOTER. LOOTER got his powers from the gas from a small meteor he was studying as a scientist. After breathing the escaping gas when he opened the meteor, he received powers that were similar (except for the clinging to walls) to SPIDER-MAN'S– but he decided to use these abilities for ill intent rather then good. Todd had the wonderful idea to have THE LOOTER treat the meteorite that granted him his powers in an almost romantic way. He was so enamored with his powers and go grateful for the meteorite that gave them to him that he constantly spoke to it and cooed over it like it was a beautiful woman rather than a hunk of space rock. I loved this… it was so hilarious and fun to draw. THE LOOTER– weird, loony…. and very dangerous. I thought he was a perfect SPIDER-MAN bad guy.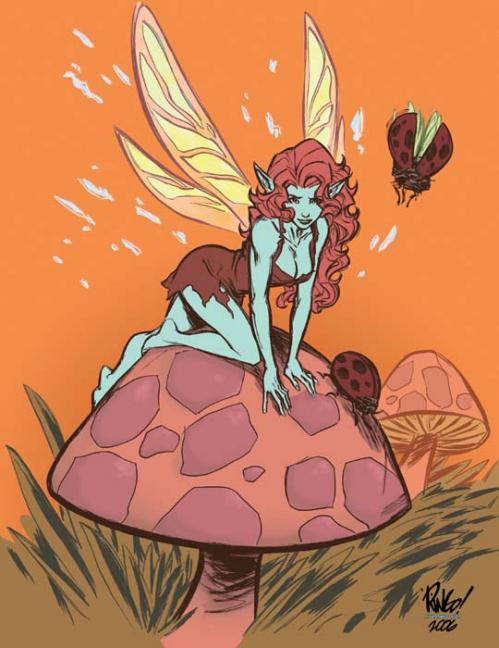 This image will be offered as a limited-edition print at BALTIMORE COMICON this weekend. It's from a sketch I posted here a couple of weeks back– but now wonderfully inked by the incredible Chris Brunner and colored by the equally amazing Rico Renzi. They are offering this as well as several other exclusive limited edition prints by artists attending COMICON under the INDIGOINK imprint. I'm thrilled and honored to be in this group of artists– and the image directly below this is the flyer for the artists and signing times that will be happening at the INDIGOINK booth.
So come by, buy a print and get it signed this coming weekend if you're attending the show. As you can see, there's some wonderful images to choose from.
That's it for today.
This is Entry 275.
Mike