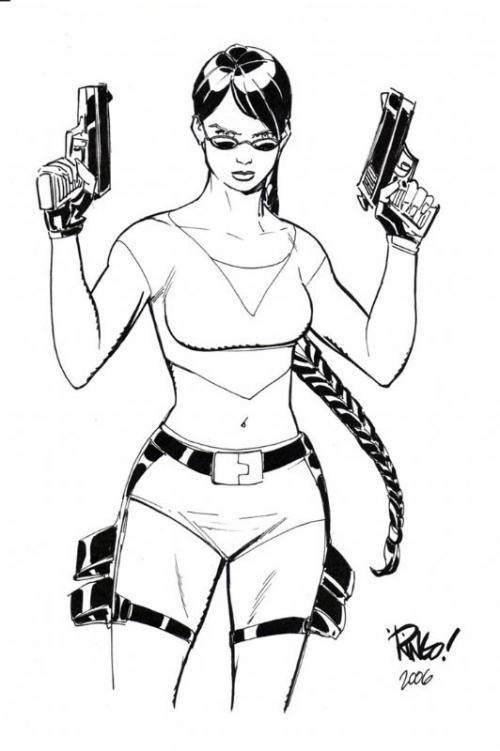 I'd like to thank my brother Matt (aka 'Mafus') for stepping in on Monday and letting everyone know about my stupid 'lawn mower blade-meets-cable line' incident that deprived me of internet access for the past few days.
It was an interesting experience going without cable, internet and phone service (well, I still had my cell phone…) for almost 3 days. I certainly gave me the chance to catch up on a lot of movies that I'd been buying on DVD recently and not watching. So I watched SERENITY, THE CHRONICLES OF NARNIA, UNDERWORLD: UNLEASHED and HARRY POTTER AND THE GOBLET OF FIRE. I also watched the DVD collection of a cancelled show called WONDERFALLS that my buddy Todd Dezago gave me for Christmas last year. I'd never even heard of the series (it was cancelled after only airing 3 episodes)…. and it's a really terrific show. WONDERFALLS is fun and quirky — about a young woman, with a wealthy and loving (if somewhat weird) family, who works at a Niagara Falls souvenir shop and lives in a trailer park all in an attempt to avoid actually beginning her life and interacting with people in a meaningful way. However, when the wax, stuffed and cartoon animals that are part of the stock at the shop where she works start talking to her and exhorting her to do good deeds, her life changes drastically. There are 13 episodes on the DVD collection… and after watching them all, I'm a bit frustrated. The problem with getting emotionally invested in a well done yet cancelled series like this one is that once hooked and having watched all there is to see from this unfinished program– and becoming hooked on the characters and situations of the series– the lack of closure with the early demise of this little gem is a bit maddening.
Today's sketch is one that I did a HEROES CON a couple of weeks ago. It's becoming increasingly difficult to do completed sketches at shows these days. After about 13 years of almost constant work, there's a lot of comics for me to sign at cons…. and that makes it almost impossible to get any commissions done during the show hours. I took almost 20 names on my sketch list this past HEROES, and I only got 5 done the entire 3 days of the con. This LARA CROFT drawing is one of those few that I managed to get finished. They guy who bought it was kind enough to send me a scan… and so here it is.
That's it for today.
This is Entry 251 (not counting my brother's picking up the slack for me Monday).
Mike